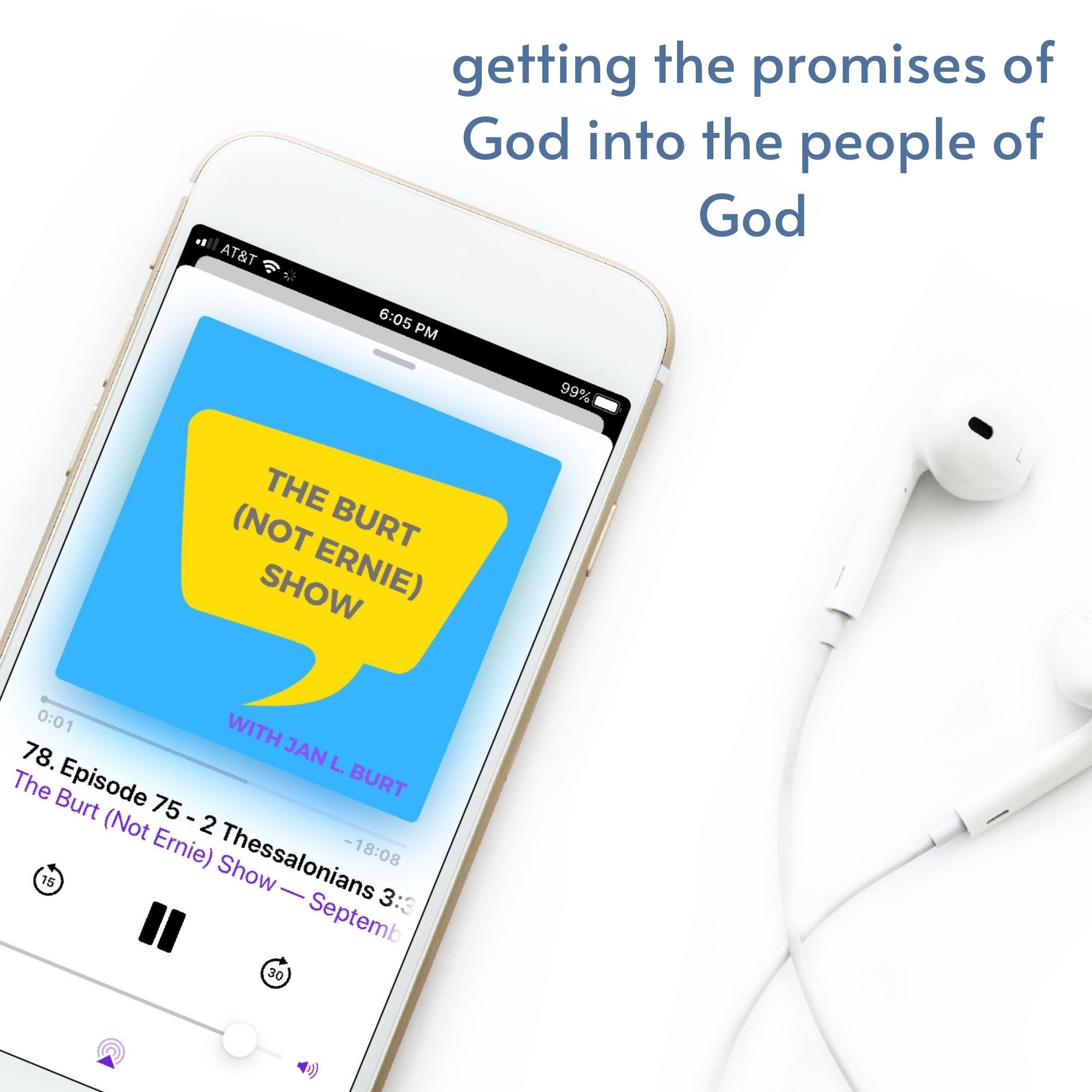 Jan is a speaker at the Life Skills Leadership Summit - grab your tickets HERE!
Spark Media Podcast Awards - Vote Here for The Burt (Not Ernie) Show - Best Female Podcast - THANKS FOR YOUR VOTE!!!
Well hey there - hello again to ya. So glad you're joining me today for this episode of The Burt (Not Ernie) Show. We are looking at a couple of verses from Romans chapter 8 - verses 16 & 17. This is the fifth podcast episode in our series on Romans 8, and I must say today's verses are good. Good stuff coming your way. I'm your host, Jan L. Burt, author, speaker, homeschool veteran, ministry leader, and an award winning podcaster…but really I'm just a woman running hard after Jesus on the daily, trying to encourage people to believe God's promises as I run my race and press on toward the prize of the high calling I have through Christ Jesus, my Lord. 
The Burt (Not Ernie) Show is part of the Spark Network, now playing in the Edifi app. This is episode 95.
Romans 8, verse 16 & 17, from the Amplified Bible reads like this:
The Spirit Himself testifies and confirms together with our spirit (assuring us) that we (believers) are children of God. 
And if (we are His children), (then we are His) heirs also: heirs of God and fellow heirs with Christ (sharing His spiritual blessing and inheritance), if indeed we share in His suffering so that we may also share in His glory.
Alright, well now, that's quite a bit packed into two verses. 
I've said this before, but it bears repeating - God's Word holds within it more hope, more promise, more of the very breath of life, than we can ever use up or exhaust. It is quite literally inexhaustible. Which is absolutely incredible to think about. We don't have much in this life that fits that description, that meets that qualifier. But God's Word holds within it all things inexhaustible. Need hope today? God's Word has it. Joy? Peace? Love? Truth? Guidance? Clarity? Strength? Understanding? Wisdom? Practical knowledge? It's all right here, ours for the taking, if we would but open it, read it, and believe it. 
So let's really, truly believe these words today.
The Holy Spirit, who is of course God - not kind of God, not partially God, and not merely the third member of the Trinity (and yes, there is one very popular, even famous, modern day preacher who stated that exact thing in one of his books…and it's not maybe who you might think, not somebody super charismatic, but someone you might label as more conservative - and look, that's just dangerous to say. The Holy Spirit is fully God, and He is not to be trifled with. So that's what I call to mind when I read about the Spirit of the Living God in the Bible). The Holy Spirit who is fully God, and in whom there is no shadow of turning, and who so graciously tells us that He is no respecter of persons (your rank, your popularity, your position, your whatever don't matter to Him - He does not respect you more or less based on such things, and frankly, being the Lord God of Heaven's Armies…um, we're never gonna move His needle with such things.) 
If you feel like you are praying from a small place, from a low estate, from a funk, from a rough spot, don't stop praying! Pray more! Pray bigger, bolder prayers than you've ever prayed before from that exact place where you feel small or in a funk. Because your God is not a respecter of mankind. And your low estate is just the runway for the take-off of a miracle. Let Him be glorified in your big praying. Don't pray small when you feel small. Feelings are fickle, like people's tastes. Fickle things don't rule over the life of a child of God. 
The Holy Spirit testifies and confirms (hey now, if God confirms something, who on earth can un-confirm it? Yeah, nobody that's who. That ain't happening.) He testifies, and He cannot lie, it's impossible for Him to do so, so if He testifies about something, well then that's it. Done deal. Finitio. And in verse 16, the Holy Spirit does both the testifying and the confirming, so there isn't any wiggle room and there is no getting out of this promise. See what I'm getting at here? I'm painting this picture for you that is the absolute reality in God's Kingdom, and I want you to accept it, to believe it, as an absolute reality in your day to day, walking around life. 
He testifies and confirms along with our spirit to assure us that we who are believers in the Lord Jesus Christ as Messiah, as Savior of the world, we are children of God.
Is this a promise, or is this a promise?!? 
I'm going to read this verse again and I just want you to listen and then to do what the verse says, to be in agreement with the Spirit that you are a child of God (provided you know Jesus personally, that is - this is a conditional promise in that it only applies to those who are in Christ, who are saved, who believe on Him for forgiveness and eternal salvation). 
So if that's you, as I read, you sort of give a nod, something like you answer in the affirmative. And hey, if you can, if you're in a place where you can do so, answer out loud. Yes, Lord. Amen, Lord. Like, when you do that, you are talking to the devil and he must , must,  must flee when you resist him. Actively agreeing with the Word of God is resisting the devil. 
Romans 8:16 (AMP) - the Spirit Himself testifies and confirms together with our spirit (assuring us) that we (believers) are children of God.
Amen to that!
If God says we're children, that He has testified that's who we are and He has confirmed that that's who we are, then that is who we are.
Alright, I have hopefully laid a solid & firm foundation for verse 17.
I just want to mention a couple of things here before I continue - if you would consider voting for this podcast as part of the Spark Media awards, I'm nominated for best female podcast and voting is open through the end of February of 2022. I'll put that link in the show notes. Spark Media Podcast Awards - Vote Here for The Burt (Not Ernie) Show - Best Female Podcast - THANKS FOR YOUR VOTE!!!
 And also, I've got something new coming up soon. A course on prayer, specifically on Psalm 91. I'm going to have some options for founders to join my course early at a discounted price of $25 rather than the $50 it will normally cost. If you'd like to be a founder, please let me know by emailing me at JanLBurt@outlook.com and just say founder info in the subject line and put your name and email address in the body of the email. I will send out some info via my email list in the next few weeks, so you can sign up for that and keep an eye on your inbox when the course goes live at the founder's rate. Visit my website JanLBurt.com & scroll down just a smidge and drop your email and you'll be on the list! Hope you'll join me, cuz it's gonna be good! 
Okay, back to verse 17. You ready? If you're not, you better get ready. Put your lap belt on, cuz this plane is gonna take off. And you do not want to miss this flight. Okay, ready?
Romans 8:17 (AMP) - and if (we are His) children, (then we are His) heirs also; heirs of God and fellow heirs with Christ (sharing His spiritual blessing and inheritance); if indeed we share in His suffering, so that we may also share in His glory.
It's settled that we are God's children, and according to 1 John, we are His dearly loved children. Some of us grew up in homes where we were children, but maybe didn't feel loved, let alone dearly loved. This truth is vital for us as disciples of Jesus. You gotta know that you know that you are dearly loved as a child of God. And God, who is faithful and who does nothing outside of His lovingkindness, is the One who dearly loves you. 
As His child, you are also an heir. A fellow heir with Christ, and you get to share in His spiritual blessing and inheritance. So what does that look like for us? Well, you can take something in the Bible and you can pray it and you can expect that it won't be an unanswered prayer. The Word of God does not, will not, cannot return to God void, but rather it will do, must do, can't not do (to use a double negative) what He has sent it forth to do. Speak God's Word out loud. This is part of your inheritance as an heir. Speaking, praying, God's Word, out loud, changes things. In your living room and on the other side of the world. We can't neglect our inheritance, our spiritual blessings, and think we are living in the fullness of all the Lord wants to give us. 
We can pray, "Give me the nations, Lord, as part of Your Kingdom!" and we can expect Him to move and act, to rescue people from the lost-ness that floods this world. Your prayers, and mine, can build an ark that offers rescue, deliverance, hope, and protection from the floodwaters engulfing this planet. 
Don't believe me? That's alright! I don't want you to believe me; I want you to believe the Word of God. 
Try this: each day for the next 30 days, for one month solid, read and pray out loud Psalm 91. Now you may get to about day 6 and be like, this is monotonous, what am I even doing? But keep going. By day 30, you will not be the same. You are going to find yourself praying that over people and situations and circumstances all the time. And things are gonna happen. Mountains will start to move. Grace will begin to flow. Take the Kingdom of God by force, as it says in Matthew 11:12. Take it by standing in prayer, by praying God's Word, by choosing to believe that every single promise God has made is absolutely, unequivocally true for you, and all He has planned and purposed and in store for you will be yours. Nothing less! Shalom - that word means nothing missing, nothing broken. 
I've just given you a plan to start seeing God work and move in your life, and it can change the entire trajectory of how you live out your days on this planet. Do it by faith if you must, and by that I mean you may not be feeling it when you start praying Psalm 91 out loud on that first day of the 30 days straight. That's okay! Be strong enough and courageous enough (see Joshua 1:9) to just get started. Trust God enough to do this even if you don't feel like you can totally trust Him in all the things just yet. Try it! And in the words of the movie A Christmas Story, I double dog dare ya. I really will be such a goofball as to double dog dare you to do this if it will get you to try it! Don't have a lot of belief in this kind of thing? Well, here. Take some of my belief and get started with that. Like, this is an heirloom seed, not GMO, it will take root and it will grow and it will bear fruit and that fruit will be seed-bearing, in season and out of season, like a tree planted by streams of waters whose fruit never fails because it's roots go down deep into the nutrient rich, well watered soil and it never winters, it just keeps on producing. That's what I'm giving you - an heirloom seed of my belief for you to start with. And just wait until you see what God does from there!
Again, he is no respecter of persons. You can have as much Jesus, as much of all He has promised, as you want. As you like it, so be it. So ya know, why not go for the gusto? Why not? Let's just ride this sucker for all it's worth and live all the way into the grave…not exist until the grave overtakes us.
It does say in verse 17 that we gain this inheritance in part by sharing in His suffering. You and I are going to suffer. It's an untruth to say that when you come to Christ you never have hard times again. Oh, you do. Some will break your heart! When people reject Jesus and you understand the eternal, forever consequences…that will break your heart. In the church body, as Jesus and Paul stated so clearly, there will be wolves and they come in to mislead the flock and even to devour the sheep. You may be made fun of, treated badly, because of your belief in Jesus and in God's Word. But those who don't know Jesus, they suffer too. We suffer from victory, as a part of procuring our spiritual blessing and inheritance. They suffer with no victory on the horizon, because without Jesus even the greatest earthly victory amounts to nothing other than something akin to another notch on the devil's belt. Ya know the saying, "Smoke 'em if you've got 'em?" Satan's got 'em, and he smokes 'em. He does what he can with every opportunity he gets and he is not going to leave anything on the table. 
Suffer for Jesus, or suffer to give Satan what he wants. Really, there is no other option. There is no in-between. 
Your suffering when you know Jesus, as a child of God, comes with the promise that you will share in His glory.
Now think on that for a moment. 
Christ's glory, and He is willing to share it with us. With you.
This is a promise among promises. 
This is beyond our ability to understand or comprehend.
And yet, this is what God is offering to us today.
And it is for today!
Today is the day you are listening to this podcast, so today is the day that God planned for you to hear what these verses from Romans 8 have to say.. And that means, today is the day He wants you to believe this is for you, to step into it, and to receive all He desires to give you as His dearly beloved child.
Thank you for joining me for part five of the Romans 8 series, and don't forget to get on my email list at JanLBurt.com for info about being a founder for the course. 
Next time we are looking at verses 26, 27 and 28.
Yup, it's time to talk about that oft quoted, so famous among believers verse, Romans 8:28. And we're gonna discuss it in context with verses 26 & 27 because we want to know all of what God says so that we can get all of what He has promised.
Don't miss next week. Invite your friends, subscribe to The Burt (Not Ernie) Show, all that stuff. Big week on the show for episode 96 so make plans, make some room in your schedule, to catch that episode. 
I'd love it if you left the show a review & thanks in advance for doing so.
Praying God's richest and fullest blessing and favor over you this week, and expecting Him to do exceedingly, abundantly above and beyond all you could ever think, ask, dream or imagine. Wont' He do? Oh, I do believe He will!
See ya next time!
Bye bye!
You've been listening to The Burt (Not Ernie) Show, part of the Spark Network, now playing in the Edifi app.
Jan is a speaker at the Life Skills Leadership Summit - grab your tickets HERE!
Spark Media Podcast Awards - Vote Here for The Burt (Not Ernie) Show - Best Female Podcast - THANKS FOR YOUR VOTE!!!
Jan L. Burt is an author, speaker, podcaster, homeschooling veteran, mother to five, and has been happily married to Tony for thirty years. She served in youth ministry alongside her husband for twelve years & has led several Bible studies for women as well as hosting two online prayer retreats.
Jan is the  author of the new book "A 60-Day Prayer Journal for Parents" & "The Power of God's Will – 40 Days of God's Promises Devotional" (available on Amazon) & "The Once-A-Year Homeschool Planner" (a multi-grade, multi-subject planning system) – which can be found at JanLBurt.com. She has also been a regular contributor to The Old Schoolhouse Magazine. Find Jan  Instagram: @JanLBurt or at her website JanLBurt.com or at her YouTube channel, "God's Promises for You with Jan L. Burt".