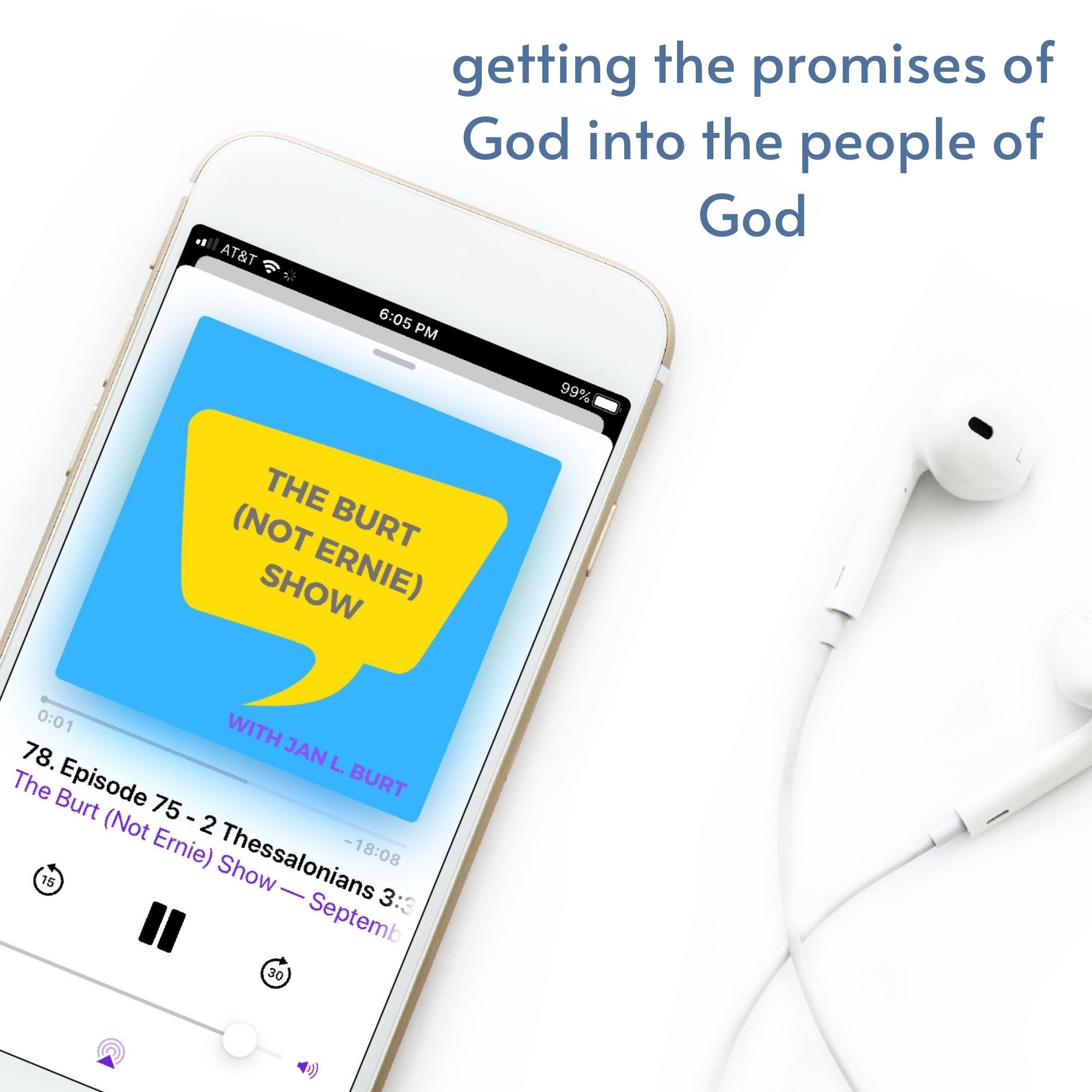 Well hey hey, hello to you today. Welcome to this episode of The Burt (Not Ernie) Show - a podcast with the singular focus of deep diving into every big and every little thing which God has promised to us in His word. We open the pages of the Bible, read what's written there, discuss it and then we choose to believe that 
 what it says is there for us. Right now, today.
Because God's promises are for His people, and we want to grab hold of everything that He has promised us.
I'm your host, Jan L. Burt, and you're listening to The Burt (Not Ernie) Show podcast, part of the Spark Network, now playing on the Edifi app. This is episode 99.
So, it's sort of a big episode today. It's like the closer for the series on Romans chapter 8, and anytime we wrap up one thing we've been working on, we should try and do it well. The ending of one thing is also the beginning of something else, and so it stands to reason that how one thing ends is how the next thing begins. 
Ending on a sour note usually means we start the next thing with a sour taste in our mouths. So let's work to end this series well. Paul had this fantastic way of ending his letters on a high note, and while Romans chapter 8 doesn't mark the end of the book of Romans, it is a transition into chapter 9, so it's like a mini-ending, of sorts. 
Romans 8, verses 37, 38, and 39 - I'm going to read from the Amplified -  Yet in all these things we are more than conquerors and gain an overwhelming victory through Him who loved us [so much that He died for us].  For I am convinced [and continue to be convinced—beyond any doubt] that neither death, nor life, nor angels, nor principalities, nor things present and threatening, nor things to come, nor powers,  nor height, nor depth, nor any other created thing, will be able to separate us from the [unlimited] love of God, which is in Christ Jesus our Lord.
And from the New Living Translation -  No, despite all these things, overwhelming victory is ours through Christ, who loved us. And I am convinced that nothing can ever separate us from God's love. Neither death nor life, neither angels nor demons,[p] neither our fears for today nor our worries about tomorrow—not even the powers of hell can separate us from God's love.  No power in the sky above or in the earth below—indeed, nothing in all creation will ever be able to separate us from the love of God that is revealed in Christ Jesus our Lord.
This sounds like a great way to end this chapter. Talk about ending on a high note! 
Verse 35 talks about all these things that are completely unable to separate us from God's love. Things that we face on the regular & things we face less often - things like calamity (we've seen a whole lot of that the last couple of years), hunger, destitution, danger, persecution. These things are the painful things in life, and Paul lists them here for that reason. Because they are on the extreme end of the hard stuff of life. There are a lot of things not on this list, and those things are still difficult, still hard for us and hard on us and hard on the people that we love and care about and do life with. But he hits on the worst case scenario because he really, really wants us to understand that even these things, even the very tippy-top pinnacle of the hard stuff cannot, cannot, absolutely cannot separate us from Christ's love.
That's the springboard that launches us into verses 37-39. 
Yet in all these things, and all really does mean all by definition, it does not mean some, so be aware that in your mind, in your thinking, it is possible to kind of switch out all for some or most… you have probably experienced this, where you don't outright disbelieve something God's word says, but you may categorize it, thinking, "Oh that's so true, I hope that happens in my life sometime in the future." or maybe, "Yes, that's true! I am praying for that in my children's lives or for my closest friend at work" but you never pray it or believe it for your own life. For you. This is common! I think to some degree, in some manner, we all do this kind of thing & I would love to see more and more people kind of nip that in the bud, when their thoughts do that little switcheroo, and instead say, "Oh no, this is for me because has promised it and He is not a respecter of persons, so I'm not excluded and I'm not on some heavenly wait list, I can pray this for my children and my dear friend and also for myself - there's room at the table for me. God's promises are big enough for all His followers, so thank You Lord that this word is my word today." 
All really does mean all, and so verse 37 tells us that in all these things, no matter what the "these things" are on any given day, we are more than conquerors and gain an overwhelming victory through Him who loved us. 
This is big news. Like, the biggest news story in my life right now should be this. No matter what, I am more than a conqueror (how cool is that? More than a conqueror? As if being a conqueror, conquering all these things, weren't enough, God promises more. I am more. That's so good, you know? I am more! More than a conqueror in this exact thing that is hard, that is painful, that is taxing.  So much promise here. And when we find a promise of this magnitude, we also find so much hope. And remember, our hope does not disappoint us when it is hope from our Lord.)  
How does it sound to you to be promised that you will gain an overwhelming victory? 
Think about racing against Usain Bolt. It kind of would be a given that he would have an overwhelming victory. Not like, "Hold on folks, they need to look at the tape and determine who actually crossed the finish line first… this is too close to call with the naked eye!" No. Not like that at all. Like this - this runner won the race by actually lapping her opponents multiple times! Usain Bolt won his races soundly, decisively, without question. He even slowed up a bit at the end of many of his races to cheese for the fans and the cameras! He won so overwhelmingly that he could kind of take it easy and really enjoy himself as he came across that finish line. How great is that to think of in spiritual terms? I want that! I want to be able to enjoy my time on this big blue ball because I know I am promised overwhelming victory and so I don't have to strain and worry and fret. I can run my race from victory, not hoping somehow I manage by the skin of my teeth. 
Overwhelming victory. It is yours, it is mine, this is our promise. Let's simply believe it today. 
Verse 38 tells us that nothing, nothing whatsoever, can separate us from the love of our Lord. Kind of reiterating what was said in verse 35, but sort of looking at it from a different angle. 
Death, life, angels, demons, fears for today  or worries for tomorrow, not even the powers of hell. Okay, pause for a sec on this… not even the powers of hell. Don't give zero thought to the powers of hell, or you'll never spend time praying to bind satan and his evil demons and their work at wrecking on you and trashing your life. Pray for other people too, that the work of satan would be utterly destroyed, so stunted that it is unable to have any growth or make any impact. We have an enemy, if it were not so Jesus would have never talked about our enemy the devil. But he is a defeated enemy. For us who know Jesus as our Lord, our Savior, our Master, we who are disciples of Christ should pray with some serious God-given authority. Because not even the powers of hell can ever separate us from God's love. You can't be separated from it because you are so immersed in it that is in literally in Him that you live and move and have your being. You and the love of God are inseparable. Isn't that just great news?!?
No power from anywhere, above or below, or anything in the whole of creation will ever be able to separate us from His love. We really are wrapped in His love, safe in His care, and when we live in a state of utter trust that God cannot and will not do anything apart from His lovingkindness toward us, we live a whole lot free-er. And Jesus wants you free, always free, every single day. It is for freedom then that Christ set you free, so do not be burdened again by a yoke of slavery. That's from the NT book of Galatians. And that's really a key thing to know.
You've been freed. Set totally free. And that's Jesus' will for you, to be free, which is why He did the work of setting you free. So, stay free. And be a freedom fighter. Help other people experience the freedom God has for them. 
The tremendous love God has for you was revealed through Jesus. What more could be done than what He did on the cross? He loves you. And that is the final message of Romans chapter 8. God loves you so much, so very much. You are free. You are safe. Nothing can separate from His all-encompassing love. This is the good life, folks. So let's not live as if it is anything but the good life. 
Hang your hat on all the promises found in Romans 8. 
Your God will not fail you & your God is a mountain moving, life changing, promise keeping God.
I need to tell you about a podcast that I recently discovered, it's The Reclamation Podcast with Tony Miltenberger.  I have been loving this podcast. I'm not sure I can do an adequate job of describing it in short order, like I need to use my words because there is a lot he covers on his show. But I had to share it with all of you because if you're listening to my show, then you'll want to listen to The Reclamation Podcast. Living your life as a follower of Jesus will only be bettered if you dial in and subscribe to The Reclamation Podcast. Look it up, or check the links in the show notes. I'll also link on my social media in the coming weeks, probably more than once so nobody misses it. It's good stuff. Please check it out, I think you'll be encouraged and receive some excellent equipping. You know I mentioned in episode 98 the idea of a runway, you land and allow me to refuel if you will, to disembark some things that need to get off your place, and to onboard some stuff that needs to go with you on the next leg of your journey. That's just my role in the body of Christ, and sharing about The Reclamation Podcast is one more way to make sure I'm doing the work of The Runway (and can you tell that's going to be a catchphrase? It's keeping me on mission, that phrase, and it will help you to know what to expect whenever you drop by my website or podcast or social media. What happens on a runway is what will happen via all my platforms. And today I hope that you feel refueled and ready for takeoff.)
LINKS to The Reclamation Podcast ~
Sign Up — Tony Miltenberger (twmilt.com)
Reclamation Podcast — Tony Miltenberger (twmilt.com)
Reclamation Podcast: Reclaiming Good Practices for Faith and Life | a podcast by Tony Miltenberger (podbean.com)
Reclamation Podcast — Spirit & Truth (spiritandtruth.life)
Find him on Instagram @twmilt
Thanks for joining me for this episode of The Burt (Not Ernie) Show. I'm Jan L. Burt, find me at my website Jan L. Burt dot com, and this show is part of the Spark Network, now playing on the Edifi app. 
I'll see you next time for episode # 100.
Bye bye!
#theburtnoternieshowpodcast
#janlburtdotcom
#thepowerofgodswilldevotional
#reclamationpodcast
Jan L. Burt is an author, speaker, podcaster, homeschooling veteran, mother to five, and has been happily married to Tony for thirty years. She served in youth ministry alongside her husband for twelve years & has led several Bible studies for women as well as hosting two online prayer retreats.
Jan is the author of the new book "A 60-Day Prayer Journal for Parents" & "The Power of God's Will – 40 Days of God's Promises Devotional" (available on Amazon) & "The Once-A-Year Homeschool Planner" (a multi-grade, multi-subject planning system) – which can be found at JanLBurt.com. She has also been a regular contributor to The Old Schoolhouse Magazine. Find Jan  Instagram: @JanLBurt or at her website JanLBurt.com or at her YouTube channel, "God's Promises for You with Jan L. Burt".