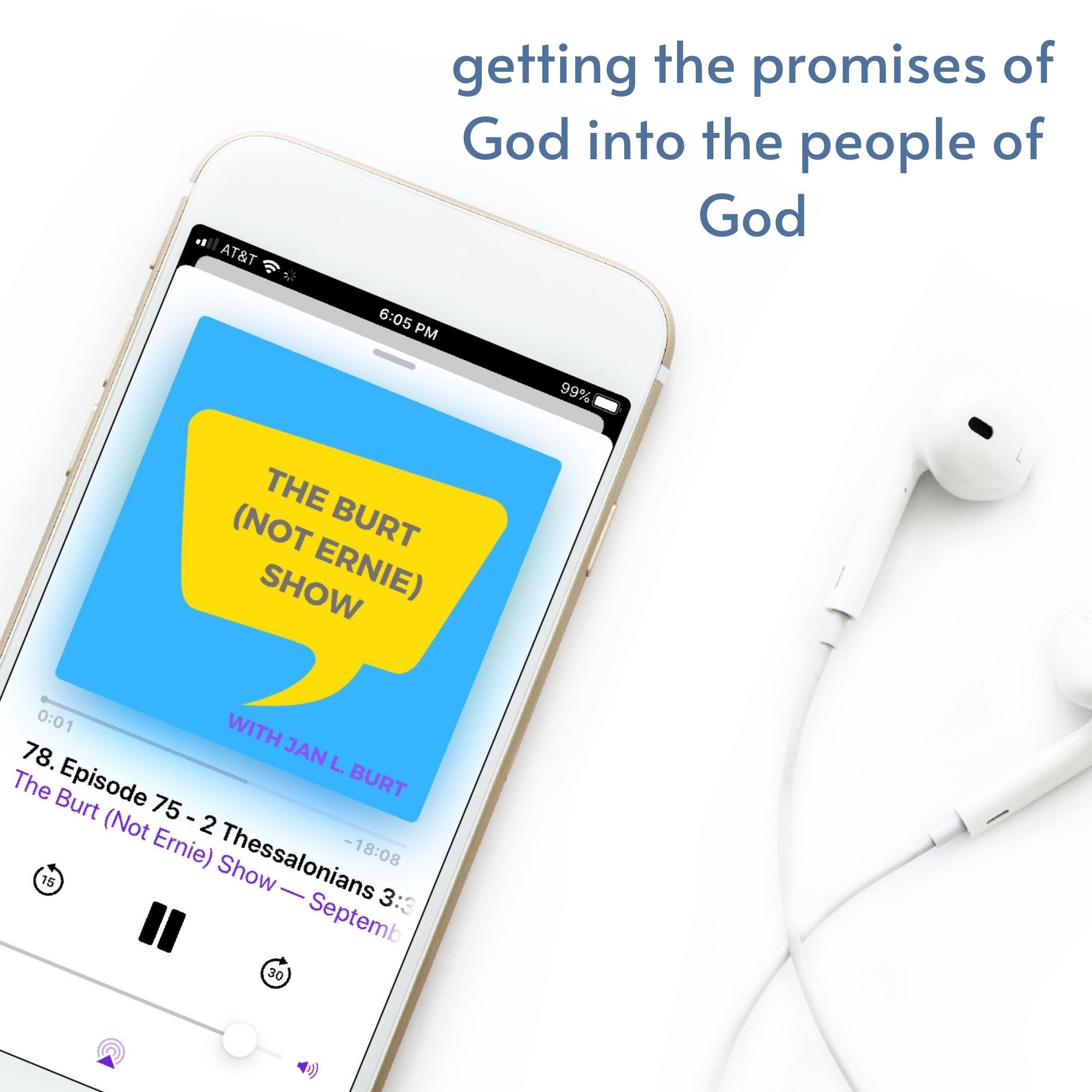 Well hey there, hello to ya today. I'm Jan L. Burt, host of The Burt (Not Ernie) Show, and I am so glad you're joining me as we look at a couple of verses from the New Testament book of Romans. The Burt (Not Ernie) Show is part of the Spark Network, now playing in the Edifi app. This is episode 93
Romans 8 is our topic for this series of episodes on the podcast, and this is the third episode in the series. Today we are looking at Romans 8, verses 10 & 11 in both the King James and the Amplified. 
I'm going to read these two verses from the KJV first.
Romans 8:10 & 11 (KJV) - And if Christ be in you, the body is dead because of sin; but the Spirit is life because of righteousness. But if the Spirit of Him that raised up Jesus from the dead dwell in you, He that raised up Christ from the dead shall also quicken your mortal bodies by His Spirit that dwelleth in you.
Okay, so this is rich language, isn't it? Not words we throw around in normal daily conversation, but so rich! 
The first sentence states that your body is dead because of sin if Christ is in you, which is true for all believers who have accepted Jesus' death at Calvary as our personal atonement for our personally committed sins. We may stagger a bit at this statement, though. Wait - if Christ is in me then how is my body dead because of sin? Well, that's going back to the concept of our flesh (episode 92 covers that in detail) and in the flesh, in me without the Holy Spirit regenerating me, in me dwells no good thing (see Romans 7:18 to read the verse I am taking those words from). Baptism is a public funeral of sorts, we are agreeing that we are buried with Christ and are raised to new life in Him. His power accomplishes it all, not any of mine. The flesh is just, well, trash to use a modern slang term. Once Christ is in you, the flesh is dead and you know it's dead; you understand how vile sin is and what it cost the Lord to pay the price for the sins of all mankind, and you don't really want to try and pretty it up and keep it alive anymore because you understand that it's just dead, it's trash. If Christ be in you, the body is dead because of sin.
Then it goes on to say "but the Spirit is life because of righteousness". Now that's some good news right there! God's righteousness is yours through Jesus and it does it's magnificent work in your life through the Holy Spirit. Where the Spirit of the Lord is there is freedom, it says in 2 Corinthians 3:17. Freedom. Liberty. Life. You've been freed, you've been liberated, to new life through Christ Jesus. And the Spirit in you is that life. Big promises for you and me in these verses. Let's grab hold of them and live them out, let's be among those who believe all that God has promised to us. 
But if the Spirit of Him that raised up Jesus from the dead dwell in you, He that raised up Christ from the dead shall also quicken your mortal bodies by His Spirit that dwelleth in you. When the Holy Spirit dwells in you, the promise here is that He will quicken your mortal body by His Spirit. That dead flesh can be utilized now to do the Lord's will, to bring about His purposes, to accomplish the good works that He preordained and planned out for each of His followers. By the same power that raised Jesus to life again. That's what gets done what God wants gotten done. Not our flesh, but His Spirit. 
The King James uses the word "quicken" while the Amplified says the Spirit will give life to your mortal bodies. 
When God sets about quickening somebody, watch out! Stand back and get ready to see something! It's one of the most amazing things we will see while living on this planet, the quickening of a person via the Holy Spirit of the Living God. 
I do not want to miss out on any of this kind of quickening, this life given to my mortal body by the Spirit of God, like none of it. How much do I want to miss? None. Zero. And I don't want you to miss any of it, either. 
Let the Spirit bring you back to life. Prune what needs pruning; mature whatt needs maturing. Bring us back to life, Lord, and all the glory is Yours. This regenerating work is a precious work, and we should expect to see it having an impact on the little corners of the world in which we live.
Let me read these two verses from the Amplified now. 
Romans 8:10 & 11 (AMP) - If Christ lives in you, though your (natural) body is dead because of sin, your spirit is alive because of righteousness (which He provides). And if the Spirit of Him who raised Jesus from the dead lives in you, He who raised Chrsit Jesus from the dead will also give life to your mortal bodies through His Spirit, who lives in you. 
What is says here is exactly what God means for it to say.
And it is God speaking to us today through His Word.
So our response needs to be to take Him at His Word, take this seriously. Because it is serious!
Often we take work seriously, we take our health seriously, we take finances seriously, we take parenting seriously. Some people take sports, like their favorite teams, very seriously. 
Do we take prayer seriously? Do we take the Word of God seriously? Do we take tithing seriously? Do we take our spiritual health seriously? 
Now I'm not trying to pick on anyone, I'm just asking a few questions in an attempt to get us to always take seriously what God is saying to us from the Bible. 
Your natural body is dead - and your spirit is alive because of the righteousness that He provides.
You may be getting older and feeling as if your work for the Kingdom of God is waning. Not true! Not true at all. The ages of men the Lord used for His Kindgom work vary greatly all throughout the Bible, and there is no retirement plan or governor placed on the work we do at this age or that age. You may be feeling all sorts of things in your natural body, but the Word of God says that even though your natural body is dead, it's alright. Your spirit is alive and well and can be thriving day after day after day. That's the promise! And does God ever say, "oops, my bad"? No. He makes promises and He keeps those promises. 
He who raised Christ Jesus from the dead will also give life to your mortal bodies through His Spirit who lives in you. 
I haven't mentioned this in a while, but today I am going to talk about this word "will".
Whenever we find the word will in one of God's promises, we need to remind ourselves (like, actually preach to ourselves!) that when God says will, He means it!
He WILL give life to your mortal bodies through His Spirit who lives in you.
He will do this!
And He is willing and able to do it right now, today, in this very season of your life.
I've experienced Him do this work in my life, in my broken and sometimes sickly and unwell body again and again and again. My mom used to say I was a sickly child, kind of an old school phrase, but I got older, gave my heart to Jesus, and bit by bit, day by day, began to not want to live under that curse of the flesh any longer. To not be a sickly child who had grown into a sickly adult. No, sir. I shrugged that off and kept walking by faith and praying and believing God was gonna do what these verses say He will do. 
And He has. Time and again, my sickly areas have become well. 
So this is a verse of promise. And there is no way God is exclusive or plays favorites. Just believe it and keep seeking this, keep praying for this. Your Healer loves to heal. Your Deliverer loves to deliver. Your Redeemer loves to redeem. Your God is so very good. 
This is a shorter episode of the podcast today, and so I'd like to speak a prayer of blessing over you before we wrap up the show.
Lord, I ask today that by the power of Your Holy Spirit which indwells your dearly loved children that You would give life to Your people today. In areas where they face sickness, bring Your new life. Heal and restore, protect and deliver, bless and highly favor them today. I'm asking for this work today, because today is the day we are looking at these verses from Your Word and so today is the day we are trusting You to act in accordance with Your Word. We know that none of Your Word returns to You void, but it will always always accomplish that for which You have sent it forth. So, do Your will in the lives of every listener today. Move and act, bring new life, fresh hope, excitement about the days before us. And never stop moving, working, blessing, healing, delivering, favoring, protecting, guiding, and loving Your people. I ask this all in the mighty name of Jesus, the Son of the Living God, Savior of the world, who is set to return in might and power and splendor in glory. Do Your will in us, for us, and through us today. Amen. 
Lord bless you and keep you today, my friend! I'm so glad you joined me for episode 93 of TBNES podcast, part of the Spark Network which is now playing in the Edifi app. Check out that app if you haven't yet. 
And hey, my podcast is up for an award - I am going to share the link to go vote in the show notes, kind of like the people's choice awards sort of thing, listener's favorites. You just visit www.sparkmedia.ventures/site/awards and cast your vote. There are drop down menus so you can pick the category (best female podcast or best solo podcast are the two categories that apply to this show)  and then pick the podcast TBNES and I'll just say thank you in advance for voting! 
I will be at the Spark Awards this year, they take place in March in Nashville and it will be awesome to be there for the conference and the NRB and the awards and just all kinds of remarkable things that I am beyond thankful I get to be part of. Just as I mentioned earlier, God has things for me to do and I am not too aged to do those things - getting the promises of God into the people of God is the task He has given me and I am trying to, by the power of His Spirit and not in my own strength, to be a good steward. When He returns I want to present Him with a ten-fold increase on what He gifted to me - because what He has gifted to me is not for me or about me, but for His Kingdom purposes and for all of you. So thanks for listening. You are the people  of God in this world, and I am so honored to be able to talk with you week by week. So, yeah, just thanks. Just thanks to you all.
I'll see you next time for episode 94 where we will keep looking at Romans chapter 8 and discovering the rich promises He holds out to us in this passage.
Lord bless you, have a fantastic day. 
Bye bye! 
Jan L. Burt is an author, speaker, podcaster, homeschooling veteran, mother to five, and has been happily married to Tony for thirty years. She served in youth ministry alongside her husband for twelve years & has led several Bible studies for women as well as hosting two online prayer retreats.
Jan is the  author of the new book "A 60-Day Prayer Journal for Parents" & "The Power of God's Will – 40 Days of God's Promises Devotional" (available on Amazon) & "The Once-A-Year Homeschool Planner" (a multi-grade, multi-subject planning system) – which can be found at JanLBurt.com. She has also been a regular contributor to The Old Schoolhouse Magazine. Find Jan  Instagram: @JanLBurt or at her website JanLBurt.com or at her YouTube channel, "God's Promises for You with Jan L. Burt".