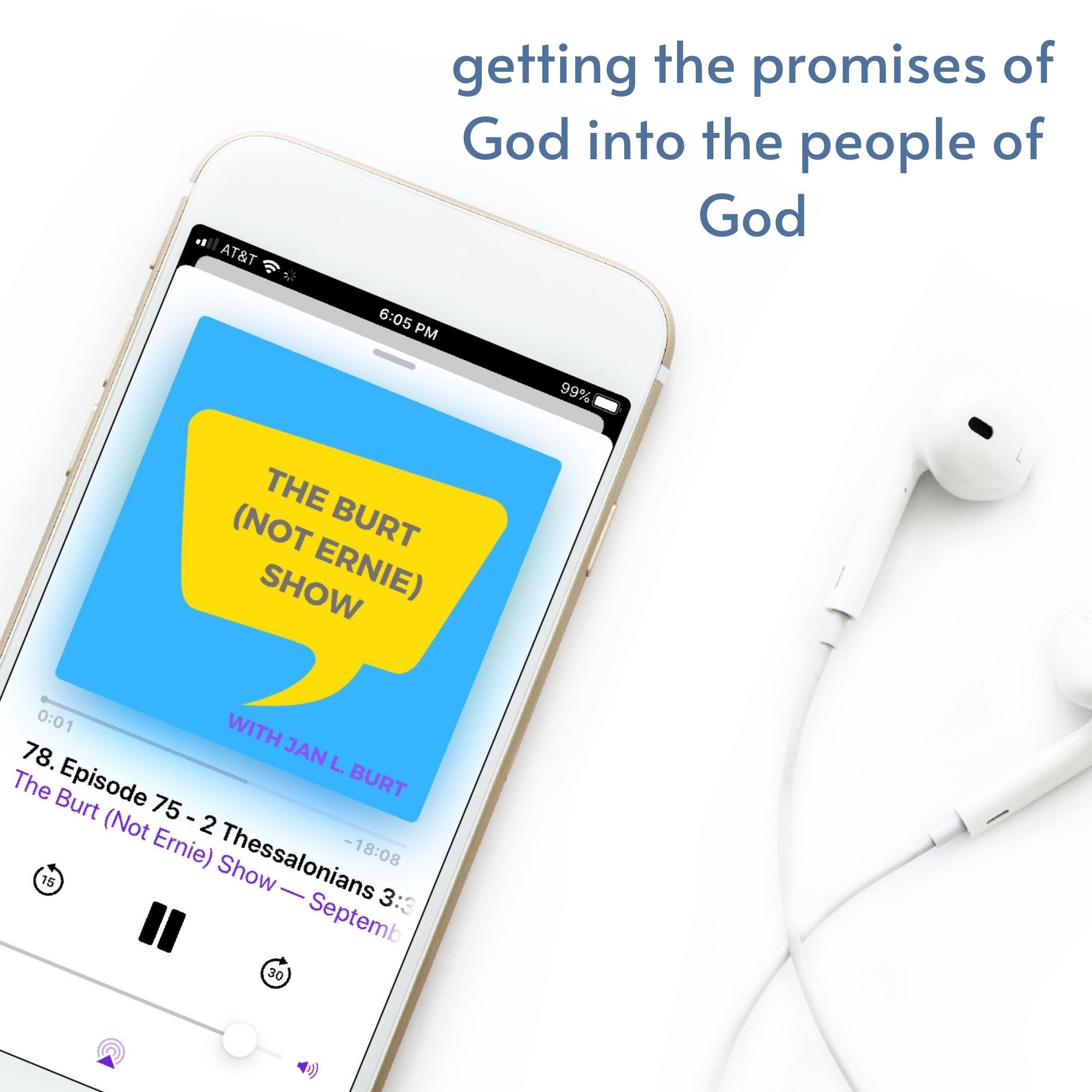 Well hey there, hello to you and welcome to this episode of The Burt (Not Ernie) Show - getting the promises of God into the people of God, one podcast at a time. I'm so glad you're here!
Today we are continuing our look into the eighth chapter of the New Testament book of Romans, and we are landing on some really big verses in this episode. In fact, for many believers, one of today's verses may well be the most quote/unquote popular verse they know.
Romans 8, verses 26, 27 & of course, Romans 8:28. It's not so well known for no reason! This verse, and the verses that surround it, are of tremendous value to those who follow Christ. And anything of tremendous value is worth investing in, right? Our time, our thoughts, our response, our prayer lives, our level of belief. As we get started today, can I just encourage you to be ready and willing to hear what these verses promise? 
You're listening to The Burt (Not Ernie) Show podcast, part of the Spark Network, now playing in the Edifi app. This is episode 96.
This series on Romans 8 has been so good for me as I've worked on each episode. And I've gotten some really wonderful feedback about this series, so I'm thankful I followed the Lord's leading and began this series. My prayer throughout this series has been, and continues to be, that we will be better because we better understand what the Bible says to us from Romans chapter 8. To think better because we know better. To love better because we better know the Father's love for us. To pray better because we better understand the promises found in this portion of Scripture. To believe for better and better things, because Romans 8 teaches us that the Lord God Most High does indeed have better things for us than we have previously experienced. (And that's true no matter what good things you and I have already experienced - there is always more that God has in store. Once we step into eternity, being in the never-ending presence of our Savior, well that will be one amazing day, won't it? So even when things get tough here in this life, we know that we have incomprehensible goodness coming in our future. But I also want to say that I believe there is so much good for us yet to come to pass right here in the land of the living, as it says in Psalm 27:13)
I hope this series on Romans 8 has been encouraging to you - and after this episode, we will have three more episodes looking at promises we find in this chapter. But today, well today is a very special episode. There is a rich, treasure trove of hope for us from the verses I am about to read. Ready? Let's go!
Romans 8:26-28, from the Amplified:
26 In the same way the Spirit [comes to us and] helps us in our weakness. We do not know what prayer to offer or how to offer it as we should, but the Spirit Himself [knows our need and at the right time] intercedes on our behalf with sighs and groanings too deep for words. 27 And He who searches the hearts knows what the mind of the Spirit is, because the Spirit intercedes [before God] on behalf of [a]God's people in accordance with God's will.
28 And we know [with great confidence] that God [who is deeply concerned about us] causes all things to work together [as a plan] for good for those who love God, to those who are called according to His plan and purpose.
Now in the few verses just prior to these Paul was talking about hope. All of creation is longing for the day when Christ will be revealed. And we who have hope in Christ are always, in some measure, hoping for what we have not yet received. We have not arrived, we are still living on this earth and haven't gone on to be with the Lord in heaven yet. We aren't hoping for what we already have, because that would not make any sense. But a person hopes for what he or she does not yet have, as it says in verses 24 & 25. 
The first thing we want to take note of from verse 26 is that the Holy Spirit helps us in our weakness. I've got weak places in my life - in my thinking, in my behavior, with my tongue (anybody else ever say stuff that just is wrong? I sure do!). Weak places, that's where the Spirit of the Living God comes to us and helps us. Don't skip past this too quickly! It's so important to really get a hold of this. He helps us right where we need some helping, and the Bible tells us that we need help in our weakness. Paul is not mincing words here, so let's actually accept what the Bible is saying. We sometimes want some help for x-y-z…in our finances, maybe, or in our health. With that certain coworker, in some aspect of our relationships, maybe in our marriage or with our siblings (cuz that all changes when you grow up, am I right? Siblings as adults is sometimes like a bag of cats - just watch out, it can get scratchy and wild!) And those are all things to pray about, to seek the Lord's wisdom and guidance and help with. But in this particular passage, it is telling us that we need help in our weakness. So, in your work stuff, perhaps you are mainly praying about things from a "Help me deal with this difficult person - guide me as I prep for this big presentation - bless the work of my hands and give me favor and increase." Really good things to pray about! I mean, everything is a good thing to pray about when we see God as our loving, caring, good Father, ya know? But that's not exactly "weakness". Lord, I need a raise. A struggle, a need? Yup. A weakness? Well, not necessarily. So we need to first off, acknowledge we have weak spots and then be willing to let the Holy Spirit be the Lord over those weak spots. Come to me this week, Holy Spirit, and help me in my weakness. That's just simply agreeing in prayer with what this verse says. And it's good to pray according to the Word of God, to get yourself to fully yield to the sovereignty of God by praying for His will, as He has revealed it in His Word, to come to pass. His will be done in your life, in my life, now. In the right now. That's solid praying right there. 
And this verse continues with some direction about our praying, our prayer life. And it should be a prayer life. If your praying doesn't have some life to it, if it feels dead, it isn't what God would have it to be. He wants it alive, full of hope and excitement, with time to ask and seek and knock and time to listen to hear what He has to say to you. 
When we don't know what prayer to pray, or how to offer a prayer to the Lord, this verse promises that the Spirit will help us. As in, He sorts it all out perfectly. He gets the right thing across the finish line at the right time. He is never late, He is never forgetful or absent-minded, and He cannot fail in any aspect of His work. If He promises that He knows our needs (and He does), if He promises to help us in our weakness (and that's exactly what He promises), if He will intercede for us at just the right time (and He surely will do just that) then we can, we must, stand on it. 
It's not a crime to be weak, my friend. To have times when you have no clue how to pray, you just know you need to pray. And the Holy Spirit can do something - He wants to do something - He is going to intercede for us. Don't fear weakness. Fear prayerlessness far more than you ever fear weakness! A prayerless life for the believer is not good, it's like poisoning your own well and then wondering why in the world you feel sick all the time. But when we don't know how to pray, when life has knocked the wind out of us, we can easily end up not praying. Ask the Holy Spirit to do as He has promised in these verses, to intercede for you and to make that intercession line up with the will of God. 
Let's read verse 27 again - And He who searches the hearts knows what the mind of the Spirit is, because the Spirit intercedes [before God] on behalf of [a]God's people in accordance with God's will.
If you sense the Lord is searching your heart, can you remember this verse rather than panic and get uneasy during the searching process? Think of it as more of a search and rescue, He is searching your heart and He is always ready, willing and able to rescue you - it's more of a search and rescue than a search and recovery. When you hear on the news that some type of search, maybe after a tornado or other natural disaster, transitions from rescue to recovery, a loss of life is indicated. God is not in the loss of life business. He is in the healing, restoring, delivering, blessing, forgiving, offering grace and mercy, discipling, rescuing business. Think of those times accordingly when you sense the Lord searching your heart. 
Let Him search! He knows what the mind of God is, and that's incredible to have as a sort of covering over your life, because He knows the mind of God in any and every situation or circumstance or relationship or health problem or financial problem or global pandemic problem or inflation problem or can't find a job problem you have today, may have tomorrow, or will ever have over the course of a lifetime. Let Him do that searching! And let Him take what He finds as a result of the search. He will take it, lifting that burden from your shoulders (provided you allow Him to do that!) and He will then intercede for you, on your behalf, from that place of knowing fully, exactly, perfectly and completely what the will of God is. 
Oh the searching is only scary when we look at it in the wrong light! It's actually so, so good! You are blessed, my friend, when the Holy Spirit stands in intercession for you. You want that! You want Him to intercede for you and then to do it again tomorrow if you need it again tomorrow. He is interceding on behalf of God's people in accordance with God's will.
Now, lemme ask you, how's that for a promise???
And now, we arrive at Romans 8:28.
And we know [with great confidence] that God [who is deeply concerned about us] causes all things to work together [as a plan] for good for those who love God, to those who are called according to His plan and purpose.
God has a plan.
Did you need to hear that today?
God has a plan.
Not just a plan for the entirety of the world, as a whole, in large part, for the masses.
Of course, this is my Father's world & as Creator, as Sovereign, He has an overarching, all-encompassing plan. Of course He does! If not, how could He be the God of all creation, the One Who Is, Who Was, and Who Is To Come? 
But you and I, as individuals, He has a plan for us too. For me. For you. No child of God is left out of His plan. None who is in the beloved can be out of the plan. He doesn't forget anything or anyone, not for a millisecond. 
God has a plan. 
And He causes all things to work together as part of that plan for good for those who love God and are called according to His plan and purpose.
There is so much in this verse. One sentence, and a handful of words, and the way we look at our lives and every moment of our lives, is changed. (Like the quote from the book The Four Feathers, "Three little white feathers and the worlds at its end.") Well, regarding Romans 8:28, a handful of words and nothing is at its end!
This verse changes the way we view life, the way that we think, and subsequently the way that we live.
Do you live in belief? Do you live what you would call a believing life? Or do you live more in the land of unbelief? Not the land of make believe, but the land of unbelief.
No Christian should remain in a place of unbelief for too long. Short stops in that place, my friend! Get about the work of believing; the way you get up and get dressed and head to work in the morning, as a habit, with no mental arguing back and forth about the merits of going to work each and every day verses the risks involved with such a daily venture, which could, after all, result in something awful taking place. Why, anything could happen today, say, on the way to work or as I grab my morning cup of coffee, and then there is the first hour of the workday, who knows what that may bring! How will I survive it? I don't think I could endure it if that first hour was at all challenging, difficult, taxing, or wearisome. Nope! Not going to work today. Maybe when my employer gets me an iron clad guarantee that I won't have any stress or struggle or any problems or hard tasks whatsoever, then I will go back to work. Until then, work is too risky. 
Newsflash: many of us treat faith in this manner.
It seems risky to believe that a promise like Romans 8:28 could really be true. What if it doesn't prove true for me? This seems dangerous, maybe even foolish, to really be one of those people who live their days believing that God works out all things for their good, so long as they love Him and are called according to His purposes and His plan. Well, I just don't know if I can go that far today. Maybe tomorrow I will try again; but today, I'd better play it safe, not take any risks, and just wait for God to increase my faith if He actually wants me to believe His Word.
Listen, I have to tell you, God really does want you to take Him at His Word, by faith. And you don't need to wait for more faith to come along; you need to believe based on the faith you already have. When Jesus was asked to increase the faith of His disciples, did He not respond by telling them that so much that was seemingly miraculous, utterly impossible in our own strength, could be accomplished by faith the size of a mustard seed? Oh, that's exactly what He said. And I'm guessing that you and I both have that amount of faith at the very least. 
The verse Romans 8:28 is a favorite when we pray for others; not exactly a go-to verse when we pray for ourselves. We know it by heart and can recite it at any moment, but we may not believe it, even as we speak it.
Yet, we desperately want it to be true - and not only true, but true for us! Now! Today!
What if it can be true for you today? What if it is true? What if?
What wonder, what possibility, what dreams open up to us when we believe this verse is indeed 100% true for you and for me, right now, at this moment?
God has a plan. He has a plan for you. A plan to work all things, and that little three letter word all really does mean all, nothing left out or forgotten or oops, all except for that part…no, it truly means all things will work for your good if you love the Lord your God (and oh I hope that you do!) and are called according to His purposes. 
If you meet those two conditions, then Romans 8:28 isn't merely a promise from the Bible; it is your promise from the Bible.
What does it mean to be called according to God's plan and purpose? 
Paul was called to be an apostle of Christ through the will of God (1 Cor 1:1 & Romans 1:1 that was kind of his resume, if you will). 2 Timothy 1:9 says we are called with a holy calling. John 6:44 states that no one can come to Jesus unless God calls him, so if you are a follower of Jesus, you've been called. In Matthew 22 we read about many being called and few being chosen. Have you responded to the Lord's call to surrender your life to Him? If so, you know what it means to be called by God. It is His will that none should perish, but that all should be saved. He made the way to salvation possible and His desire is for all mankind, every single person on this planet, to answer His call.
I don't want you to think that this is something only certain disciples of Jesus get, this being called.
Are you walking with Him day by day? Well, how could you walk with Him without that calling? It's certainly not our flesh that allows us to follow Jesus! Our flesh won't be in eternity with us, so it has no reason to deny itself! The here and now is all the flesh has, and it wants for nothing beyond the here and now. 
But for those who have been called and who, much like Zaccheus, responded when the Lord said, "Hey! Come on! Come along with me, follow me, come down from that tree - I need to dine with you today, I have some things to share with you." Much like that instance, we who are called according to God's plan and purpose have this promise, this unbreakable promise, that all things will work for our good.
I don't need to pretty this up and describe how "good" could mean this, that or the other and might feel pretty doggone bad. Um, that sort of bothers me. And it bothers me because we can so easily, so quickly, so readily excuse away God's word and God's promises with that kind of thinking. 
Who is helped by such talk? If you have lost a loved one, it's not helpful to say ridiculous things like "God must have needed them more than you needed them." What? That's a terrible way to try and comfort someone who is deep in grief! You'd be far better off to just sit with them in their grief, just be there but be silent than to say things like that. 
The good promised here is inherently good, it is the kind of goodness that originates from God and it just cannot be explained away as bad is good in opposite world. He loves you so very much and He has so much good for you. Nothing He does is ever outside of His unending love and loving kindness toward you. He is for you and He is not ever against you. And He is working, right now, all things for your good. This is a positive! 
God is generous. God is kind. God empowers His people. God is faithful. God is trustworthy. God is love. The Great I AM has promised that He is deeply concerned about you and that He is working all things to work together as a plan (He does not do random!) for good for you. 
Don't lose hope, my friend. Hang on to your hope because it will not let you down or disappoint you. Hope in your God, and expect to see the goodness of the Lord in the land of the living. In your land. In your life.
Romans 8:28. What. A. Promise!
As I wrap up today's episode, I want to mention a couple of things - voting for the Spark media podcast awards closes at the end of February, so get your vote in today for The Burt (Not Ernie) Show.  I'm nominated for best female podcast and I'll put the link to vote in the show notes. Spark Media Podcast Awards - Vote Here for The Burt (Not Ernie) Show - Best Female Podcast - THANKS FOR YOUR VOTE!!!
 And also, I've got something new coming up soon. A course on prayer, specifically on Psalm 91. I'm going to have some options for founders to join my course early at a discounted price of $25 rather than the $50 it will normally cost. If you'd like to be a founder, please let me know by emailing me at JanLBurt@outlook.com and just say founder info in the subject line and put your name and email address in the body of the email. I will send out some info via my email list in the next few weeks, so you can sign up for that and keep an eye on your inbox when the course goes live at the founder's rate. Visit my website JanLBurt.com & scroll down just a smidge and drop your email and you'll be on the list! Hope you'll join me, cuz it's gonna be good!  Don't miss this lower rate because this course is life changing, I really do mean that, people have used those exact words to describe it. Growing your prayer life can change everything so please be part of the Psalm 91 course. 
Next week we are going to look at verses 29, 30 and 31. Don't miss it, be sure to subscribe to this podcast wherever you listen and feel free to leave a review, too. 
Thanks so much, I appreciate your support and your continual listens. And for all those who listen to The Burt (Not Ernie) Show in countries other than the US, I am so glad you are listening and if you happen to be in a country that is well difficult for Christ followers or maybe is enduring difficult things right now, please know that I see the list of countries that listen and I pray for you. You are not alone, and you are not standing alone. Praying for you, and then praying for you some more. The Lord sees. And Romans 8:28 is for you, it is for you. Praying you will see it come to fruition even at this very moment. 
Thank you for joining me here!