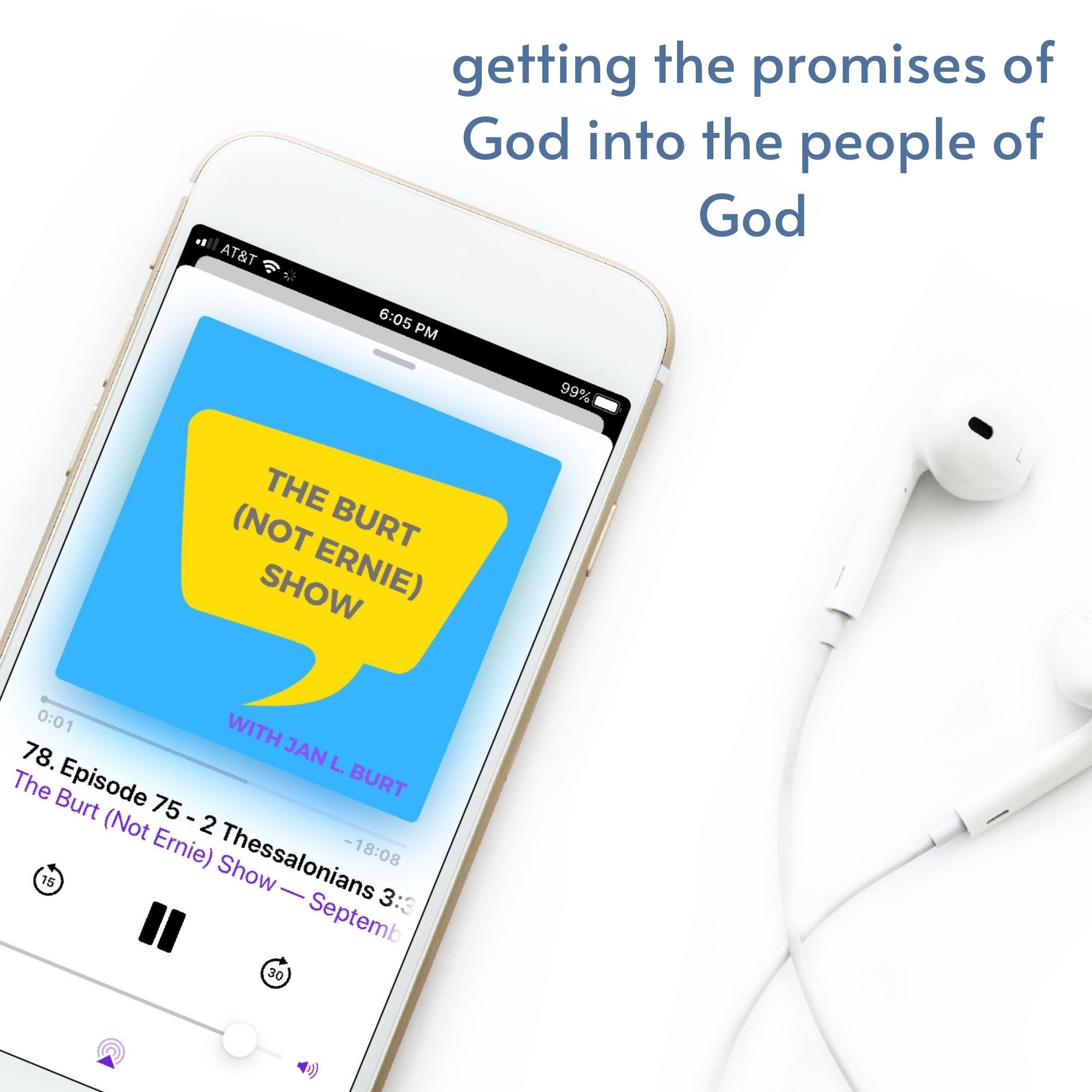 IMPORTANT UPDATE re: last week's show notes...
(I learned that the bulk of the show notes were "cut off" on some podcast app platforms, so I wanted to re-share the info about the podcast I recommended last week right at the top of this week's show notes. I'm also sharing the links to the podcast I mentioned in this episode. Here they are!)
LINKS to The Reclamation Podcast ~
Sign Up — Tony Miltenberger (twmilt.com)
Reclamation Podcast — Tony Miltenberger (twmilt.com)
Reclamation Podcast: Reclaiming Good Practices for Faith and Life | a podcast by Tony Miltenberger (podbean.com)
Reclamation Podcast — Spirit & Truth (spiritandtruth.life)
Find him on Instagram @twmilt
LINKS to Hope Along the Journey ~
Via Apple Podcasts - Hope Along The Journey on Apple Podcasts
(2) Hope Along the Journey | Facebook
Well hey there, hello to you. Welcome to The Burt (Not Ernie) Show - the podcast all about getting the promises of God into the people of God.
I'm Jan L. Burt, host of the show and your fellow Jesus following disciple, and this week is kind of a big deal because we're crossing a milestone by releasing the 100th episode of the podcast.
Doing some celebrating over here, just rejoicing in the fact that the Lord has seen fit to allow me this platform to share about Him, about prayer, and more specifically about believing His promises.
That's what I do here and I plan to keep doing more and more of that. 
So, welcome to episode number 100! I am so thankful you're here today!
You're listening to The Burt (Not Ernie) Show, part of the Spark Network, now playing on the Edifi app. This is episode 100.
So as I was thinking about the 100th episode of the show, I was kicking around ideas of how to make it, well, sort of "bigger" for this special milestone. Ya know? It just seemed like that made sense. But then, I paused. And thought about the fact that God's promises are as big as they can possibly be, they are all as true as they have ever been, and I figured I need to simply put the spotlight, the focus, on God's promises for this episode.
I cannot make them any bigger than they are, any truer than they are.
But I can put a spotlight on them, one at a time, week by week, just as God has called me to do since I began podcasting. I can ask you to believe they are true for you, today, right now… while at the same time acknowledging that they cannot become truer than they already are.
My heart is just for listeners to grow in their belief that every single thing God has promised is completely true, and to trust Him more and more, with that increasing trust leading to a deeper understanding of how to live our daily lives knowing all God's promises will come to pass. Not one will ever fail, because our God can never fail and so of course His promises are perfect promises. It's a pretty amazing thing, this path the Lord put me on and I'm truly thankful for every episode, every connection with people, new friendships, growing in my own personal life as I get out there and do the thing each week, being a disciple and also trying to help disciple others, and having the chance to sit with the Lord and let Him examine my heart to reveal whether or not I personally fully believe all that He has promised. So it's been growth, for sure, and if God is leading you into some venture that has a lot of growth involved, I can say from personal experience that you don't want to miss out on that. Do it. Follow hard after Jesus. And then one day you'll look around and discover so many amazing people following hard after Jesus, too, that you're able to link arms with. Making Jesus famous, what a privilege. Helping people trust Him more, what a privilege. And having my faith stretched along the way, well, that's icing on the cake. Gravy on the side. A blessing that I will be eternally thankful for.
Last week I wrapped up a series on Romans chapter 8, and what a powerful chapter of the Bible that is!
This week, I'm onto something new. 
I've got some verses to share with you from the NT book of Luke, chapter 4 of that book, and I'll be reading from the Amplified today. So let me first set the stage, give you some background or context clues about what's happening in this chapter before I talk about promises. And prayer, that's like a dynamite combo, you know, praying God's promises. Things happen, faith explodes, mountains are leveled, and discipleship, well there is a level of sanctification that happens as we pray. When we pray together, there is some discipleship that hopefully occurs. It unties us, which is something Jesus prayed over the entirety of His church, so we want to see that taking place. And it truly does help cement God's promises in our hearts and minds, like an anchor to the soul, when we pray the very things He has promised in His word. So, I'm looking forward to this episode since it's got two of my most favoritest things ever. Prayer and the promises of God. 
So in Luke chapter 4, we first see Jesus led by the Spirit into the desert, where He was tempted by Satan. And He overcame each level of temptation with the Word of God. When Jesus said, "It is written…" He meant it. Like, as in, believing that God's Word trumps all, is the truth at all times and in every situation, and maybe just maybe I need to be better about speaking it out loud when I run into something hard, something painful. Temptation can even be things like being tempted to hold off on forgiving someone until just ya know a little later. But when I speak a verse about forgiveness out loud, that temptation is measured against the Word of God and it is found wanting. God's word is always powerful and always effective, and that is very good news indeed. 
Jesus then went back to Galilee in the power of the Spirit, as it says in verse 14, and began teaching in synagogues. Let read verses 16 through 20 - 16 So He came to Nazareth, where He had been brought up; and as was His custom, He entered the synagogue on the Sabbath, and stood up to read. 17 The scroll of the prophet Isaiah was handed to Him. He unrolled the scroll and found the place where it was written,
18 
"The Spirit of the Lord is upon Me (the Messiah),
Because He has anointed Me to preach the good news to the poor.
He has sent Me to announce release (pardon, forgiveness) to the captives,
And recovery of sight to the blind,
To set free those who are oppressed (downtrodden, bruised, crushed by tragedy),
19 
to proclaim the favorable year of the Lord [the day when salvation and the favor of God abound greatly]."
20 Then He rolled up the scroll [having stopped in the middle of the verse], gave it back to the attendant and sat down [to teach]; and the eyes of all those in the synagogue were [attentively] fixed on Him. 21 He began speaking to them: "Today this Scripture has been fulfilled in your hearing and in your presence."
This is a powerful moment. And there is a zero percent chance that it was random. Jesus always did the will of the Father, so we know this exact time to announce His ministry and the fulfillment of the prophecy from the book of Isaiah, was the right time. 
When I read those verses, what jumps out to me is just a stunning image of who our God is. As it relates to prayer, it reminds me that I need to pay attention to my attitude, I guess I'd call it, and remember, remember well, who it is to whom I pray. This is God Almighty. Just as the eyes of all in the synagogue were intently fixed on Him, may our hearts be intently fixed on our God when we pray. It's a lofty goal, I mean, our minds wander, the dog needs to go out and then we check our phone and then we reply to a text and then, well, we try to finish up our prayer time. This happens, right? But I don't want to quickly wrap up my prayer time. I want to remember the One to whom I am speaking! We are coming to a King! 
Didn't John Newton write, "Thou art coming to a King, large petitions with thee bring." ?
Can we well bring large petitions, supernatural sized requests, if we're in a hurry to wrap it up? Would we stand in the presence of an earthly king, or leader, president, chancellor, and check the 'Gram? I think we would leave our phone somewhere else. Instagram would have nothing on the one to whom we were in the presence of. So, when we pray, remembering to Whom we come, the King of kings, it actually helps us to pray better, to pray bigger, to pray more effectively, to pray bolder and ever increasingly bolder prayers day by day. 
He rolled up the scroll and sat down. Once all eyes were fixed on Him, then He said, "Today this Scripture has been fulfilled in your hearing and in your presence."
Wow. Can you imagine this moment? Wow!
But look at what comes next. 
There were those who got snarky. Ever run into anyone snarky? Jesus did too, so He is the One to go to when that happens because He knows what you need in those moments. Turns out, rather quickly, things got a bit intense. Let's look at verses 24-30.
24 Then He said, "I assure you and most solemnly say to you, no prophet is welcome in his hometown. 25 But in truth I say to you, there were many widows in Israel in the days of Elijah, when the sky was closed up for three years and six months, when a great famine came over all the land; 26 and yet Elijah was not sent [by the Lord] to a single one of them, but only to Zarephath in the land of Sidon, to a woman who was a widow. 27 And there were many lepers in Israel in the time of Elisha the prophet; and not one of them was cleansed [by being healed] except Naaman the Syrian." 28 As they heard these things [about God's grace to these two Gentiles], the people in the synagogue were filled with a great rage; 29 and they got up and drove Him out of the city, and led Him to the crest of the hill on which their city had been built, in order to hurl Him down the cliff. 30 But passing [miraculously] through the crowd, He went on His way.
Sometimes when God's Word is shared, the people will be filled with a great rage. And some of those people may be church folks. It happens! So as I said a second ago, you want to go to the One who knows what that is like. You don't have to trust yourself in those moments. Trust Him! He's got what you need in that situation. 
They got up and drove Him out of the city, and led Him to the crest of the hill on which their city had been built, in order to hurl Him down the cliff. But passing miraculously through the crowd, He went on His way.
This is awesome.
Now I looked up some images to get an idea of what the cliff may have looked like, and it looks like something you don't want to be tossed off of, hurled on over. 
Verse 30, But…. miraculously… two fantastic words of promise for us.
In that mess, that emergency, that yuck thing, scary thing, dangerous thing, intense thing…. Can the Lord have a "But… Miraculously" moment? You better believe that He can!
But - take a pause, take a breath, it isn't over until He says it's over. Sometimes that little word "But" can be the most comforting word in the entire world. But! 
He has a "But" for your issue, my friend. It's a promise! He will never not have the final say and so we want to always, always invite Him into our lives and yield to Him, like give Him the right of way, so that His way will be the only way that things go. I want to go His way, not my own way, not someone else's way. I want His will to be done, because it's the best. Period. Not a question, maybe sometimes it's the best. No, it is always the best. Period. So I want that. Like Napoleon Dynamite, "I want that'' except I don't want a corny ship building kit along with my knock-off Tupperware order. I want God to speak the word "but" into my life wherever He wants to, and then I want to see Him do the miraculous. 
Here he just passed through the crowd. 
When was the last time you were able to just pass through a crowd that was bent on killing you? 
This is the One in whose name we pray. Do you think we understand His power, like, on the regular, when we are in prayer? Or could we grow in this? 
You have prayer promises that you have not even scratched the surface of and there is no time like the present to grow in your prayer life. 
I'd like to pray over you today as I wrap up this episode, but I'd also like to share a couple of things first. Have you signed up for my email list? I have giveaways and I sometimes send out a 3 Quick Things email with just a few things that will encourage you, bless you, and hopefully glorify the Lord. Something new will be coming soonish, and my email list is going to hear about it first. And I do have several giveaways coming up in April, so join my list at JanLBurt.com - just scroll down a bit and boom, there it is. Secondly, I'll be a guest on a podcast soon, it's the Hope Along the Journey podcast with Mark Dawson, and he really does a tremendous job of reminding people of the hope we have in Jesus during our difficult times. We sometimes in the church play nice, in a way, and try to pretty things up, right? With Jesus, we don't need to fake it til we make it. We get to come to Him in prayer as we are, and as we go through the things of life, many of which are very difficult, we can have hope along the way. Our hope does not disappoint when it is rooted in Jesus. So, check the show notes for the link to Hope Along the Journey and subscribe. Such great content and so encouraging and really, really real. How important is that right now? Beyond important. Be sure to check out Hope Along the Journey. I'll be sharing more about this ministry in the coming weeks. Good stuff, such good stuff. 
Can I pray for you today? It's a privilege, so thanks for allowing me the blessing of lifting you before the Lord.
Lord, today I come to you on behalf of every single listener. Father, would you speak Your Word into their lives, their exact situations? Right now, just where they need to see Your hand, to experience Your peace, to grab hold of Your hope, bring that to them. Today. Don't delay, Lord! Move and act quickly in those places where it is most needed. You know what is on their heart, what is weighing far too heavily. Work there, Lord. Bring healing, deliverance, protection, peace of mind, steadfastness, friendships and discipleship, and do it all from the depths of Your unending lovingkindness. Where they need a turnaround, do it, Lord. Miraculously do what only You can do, and we give You all the praise. There is none like You. We are coming today to a mighty King, the king of all Kings, and we bring with us large petitions. We lay our needs and our burdens and our fears at Your feet, and we know You will bless us. Favor every listener, shower them in Your grace, pour out Your love and mercy, may Your goodness in their lives overflow and may rich abundance be theirs. Then, Lord, do it again tomorrow. And again and again and again. I ask this in Jesus name - Amen
Thank you so very much for joining me today for episode 100 of The Burt (Not Ernie) Show. And I would be so thankful if you would consider leaving a rating and / or a review of the podcast on whatever platform you listen, it is so helpful and makes a big difference in the podcast's reach. Thank you for that! And I also want to invite you to subscribe to the show.  I'm thankful for you and believing God has amazing things in store for you right now, in this very time. 
This is The Burt (Not Ernie) Show, part of the Spark Network, playing now on the Edifi app.
Hope to see you back here next time! Bye Bye! 
Jan L. Burt is an author, speaker, podcaster, homeschooling veteran, mother to five, and has been happily married to Tony for thirty years. She served in youth ministry alongside her husband for twelve years & has led several Bible studies for women as well as hosting two online prayer retreats.
Jan is the author of the new book "A 60-Day Prayer Journal for Parents" & "The Power of God's Will – 40 Days of God's Promises Devotional" (available on Amazon) & "The Once-A-Year Homeschool Planner" (a multi-grade, multi-subject planning system) – which can be found at JanLBurt.com. She has also been a regular contributor to The Old Schoolhouse Magazine. Find Jan  Instagram: @JanLBurt or at her website JanLBurt.com or at her YouTube channel, "God's Promises for You with Jan L. Burt".