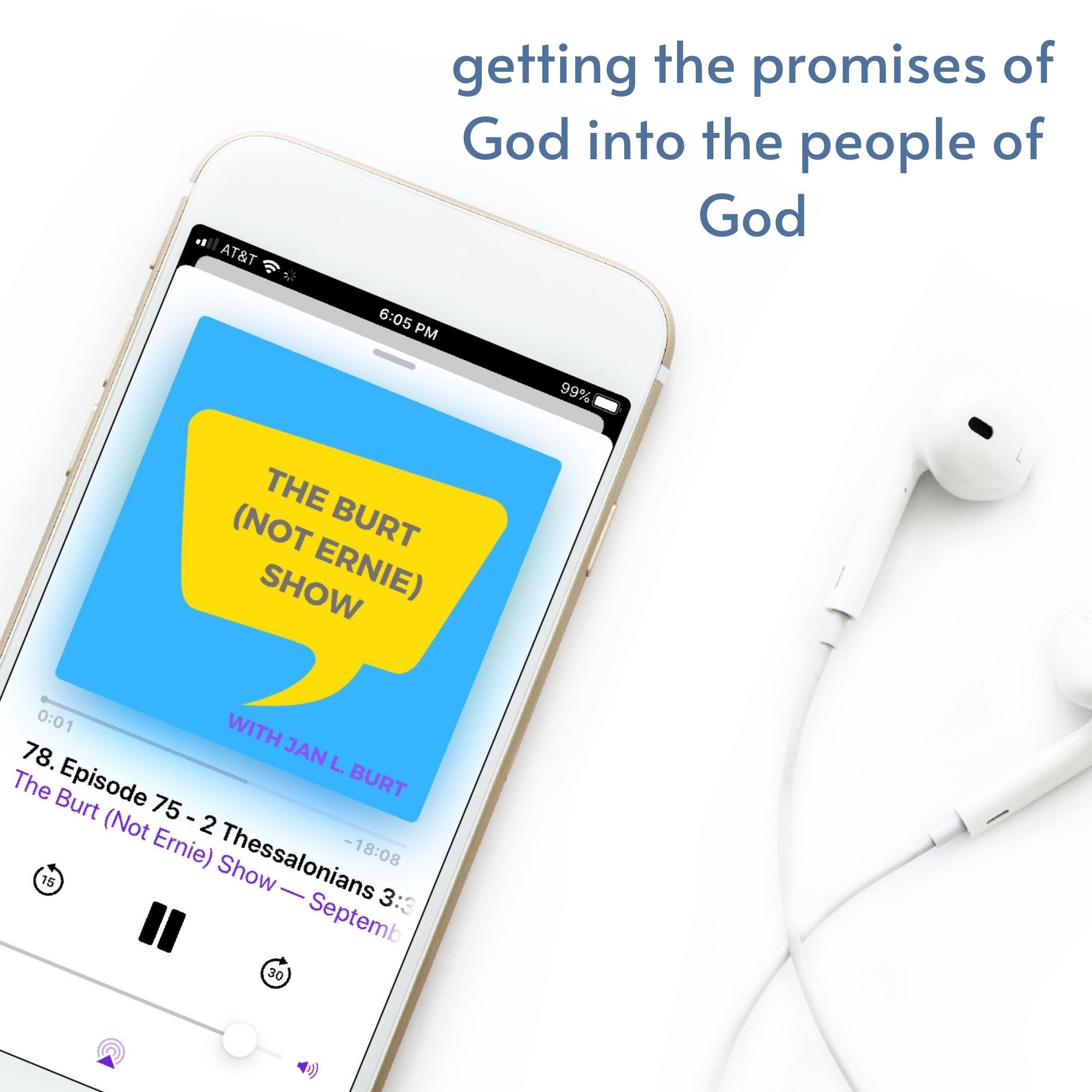 Spark Media Podcast Awards - Vote Here for The Burt (Not Ernie) Show - Best Female Podcast - THANKS FOR YOUR VOTE!!!
Well hey there, hello again. Welcome to this episode of The Burt (Not Ernie) Show - the podcast that puts the promises of God into the hearts & minds of God's people. I'm Jan L. Burt, author and speaker, podcaster and prayer retreat leader, and I am so glad you're here today. We are taking a look at the promises we find in chapter 8 of the book of Romans, and believe me you, there are indeed some wonderful things promised to us. The Burt (Not Ernie) Show is part of the Spark Network, now playing in the Edifi app. This is episode 94.
Romans 8, verses 13, 14, & 15. These verses are our focus this week, and they are hefty. There is some meat on these bones, ya know? This is not like baby food, and that's a good thing because we don't want to be spiritually immature. We want the meat of God's Word because we are feeding, consuming, ingesting, as spiritually mature people. In the physical realm, we all begin as newborns and we grow from there. We grow in every way. Now I am going to share a very personal story about one of our children, and how as a newborn she did not grow. She was less than her birth weight at 11 weeks of age. It was scary to say the least, it was a huge relief when at 12 weeks she regained her birth weight and as the remainder of her first year went on, her development was something we did not take for granted, let me just put it that way. What was automatic and not given too much thought with her siblings was reason for celebration and rejoicing and a huge relief to us as her parents. We celebrated weight gain in ounces because we had to focus for so many weeks on weight gain (and weight loss) in grams. Grams. 
So if I seem passionate about this week's subject matter, and about the promises that hold so much hope and life and vitality and purpose for us as the Lord's people, part of my excitement is linked to this very real life experience we went through with our baby. Nothing could have prepared us or readied for that season, but nothing can take away from us the empathy we have, the compassion, the care for others going through similar situations. It was hard fought, our daughter's health, hard fought in terms of what we did, what we tried, how many doctors we saw, and also very hard fought on our knees in prayer. 
When I say that we do not remain infants, we all begin there but we don't remain there and we don't want to remain there, this personal situation with our newborn is what immediately comes to mind for me. It's not a joke to me when I say that I don't want anyone to remain a spiritual infant. Babyhood is not a forever stage of life. Our daughter could not stay 5 lbs forever. One of two things was going to happen. Improve and grow and get bigger and live. Or, not improve and not grow and not get bigger and not live. That was it. We did not have other options. And it's not an unrealistic expectation that followers of Jesus would grow to spiritual maturity. In fact, it would be unrealistic for believers to remain in the infancy stage. Any pastor worth his salt would tell you this. Sometimes we need to be told, in the words of oh so many '80s parents, to "Grow up!", ya know? You can read about this concept in 1 Corinthians 3, in particular verse 2. I'll put that in the show notes because it is worth reading. Paul penned these words, and they are in the canon of Scripture, and so we should do as it says and be happy when we are fed spiritual meat rather than milk. 
So that's our framework for this week's episode and I'm reading from the Amplified Bible today, Romans 8, verses 13-15. Here's what it says:
13 for if you are living according to the [impulses of the] flesh, you are going to die. But if [you are living] by the [power of the Holy] Spirit you are habitually putting to death the sinful deeds of the body, you will [really] live forever. 14 For all who are allowing themselves to be led by the Spirit of God are sons of God. 15 For you have not received a spirit of slavery leading again to fear [of God's judgment], but you have received the Spirit of adoption as sons [the Spirit producing sonship] by which we [joyfully] cry, "Abba! Father!"
For if you are living according to the impulses of the flesh, you are going to die. Look, if somebody has been telling you that the Word of God is, like, genteel, they didn't tell you right. Now one of the fruits of the Spirit is gentleness, but the Bible always speaks pretty frankly. This verse shows us the way to die, the path of death. It's good to know! Don't want to walk that path, so thank You, Lord, for giving us this in Your Word. But if you are living by the power (ooh that's noteworthy, by the power of the Holy Spirit) you are habitually putting to death the sinful deeds of the body, and you'll really live forever. 
You know that you are living by the Spirit's power how? When you are habitually (hey, that actually means this should become a habit, second nature, so listen up now and find out what it is you should be so good at habitually that it's automatic) - habitually putting to death the sinful deeds of the body. And then you will really live forever. I don't want to kind of live, to sort of live, to semi live. I want to really live, fully live, totally live. And here's how I get to do that, by habitually putting to death the flesh (like, kill off and just annihilate, decimate, crucify your flesh - that's what this means, my friend!) That is the way to live. Don't walk a path that leads anywhere other than where God wants you to go. Where He leads, then you follow. And He will always be leading you toward life and never be toward death. That's an overarching promise from the Bible for you and for me. That is for certain God's will, and sometimes we struggle, we feel like we don't know what God's will is. But this much, this right here, we do know. We know it absolutely and with utter certainty. So, walk this path. Live, and do that living by putting to death sinful deeds. 
I could spend a whole lot of time talking about what exactly those sinful deeds might be, what all does this verse entail? Well, I will probably write a blog post about this on my website JanLBurt.com, because it's important. This isn't just hey don't covet what your neighbor owns, don't steal from your employer, don't live as a hard-hearted unforgiving person. It can be a lot of things - how's your thought life? Not talking about, say, lustful thinking or something along those lines, but do you think well of yourself? Do you talk to yourself in ways that you would never talk to someone else? That's sort of what I'm thinking could be a big issue for many of us, not the quote/unquote big sins but ones that are still super damaging, but not always readily addressed. So I'm adding that to my work calendar and I'll be writing that, doing a lot of praying over it, and look for it soon at my website. 
Okay, so in verse 14 it says that all who allow themselves to be led by the Spirit of God are sons of God.

Now, language matters. Verb tense - well, that matters. The way I just said it is how we kind of think of it. But the tense is actually continual. In the Amplified it says, "For all who are allowing themselves to be led by the Spirit of God are sons of God." (emphasis added)  This isn't a one-off, not one and done. Are we continually allowing ourselves to be led (hey, that means we're not in charge - we are not leading the way - if the Spirit is leading then we are to be doing what? Following. And let's try to follow closely, think about a war zone and you need to follow your CO… you gonna fall behind and just risk it? No. Just, no. Follow closely and attentively and with a good attitude!) 
Like a litmus test, you will know if you are a child of God by this evidence. Are you allowing yourself to be led by the Spirit? Not one time I allowed the Spirit to lead me and I came to Christ and received His salvation. Are you right now, today, still allowing Him to lead? Don't say Yes to that if you aren't actively following where He is intentionally leading. 
Verse 15 - we may need to break this power packed verse up a bit. For you are not - oh boy, Paul is preaching now! He is telling us who we are not (and that is one of the main purposes of this podcast - look, we have got to know who we are and who we are not according to the Word of God. This is not optional! To mature in Christ, you gotta know this stuff!) For you are not - let's listen up because this should be like key for us. Okay, who am I not? Not only do I want to get excited about who God says that I am. I want to be excited about who the Spirit of God says I'm not. (Like the kid who is defending himself against the accusations of some other kid, we can as children of God say to our accuser, "I'm not!") Know who you are - know who you are not - and know your seasons, your times in your life. I cannot overly stress how vital, like your vital signs kind of vital, those three things are!
For you have not received again a spirit of slavery leading to fear. You are not a slave. You are not an orphan. You are not meant to live in fear. You are a free man, a free woman. You are a child of God, dearly loved and well looked after, you live by faith in the Son of God. Because you know that all God's promises for you are true, they are all yes and amen through Christ Jesus your Lord. (2 Corinthians 1:20)
Anybody else just love the Word of God? I mean, we take these three verses and we discover a wealth of treasure. Then we open our Bibles and read a chapter or two and do it again the next day. It's like a  gold mine that can never be depleted or fully exploited. 
But you have received the Spirit of adoption as sons. 
It's verses like this that help us understand what it means to have Jesus as Lord of our lives, living on the throne of our hearts. You've received Him and you have been adopted. You're in, baby! Don't you dare forget that!
The Spirit produces sonship. You wanna challenge whether or not the Spirit of the living God can do what only He can do? Don't question the Spirit's power. The Spirit produces sonship. That's comforting, that's hope, that promise for today and for all the future. This is good stuff! 
By which we joyfully cry, "Abba! Father!"
Having God as your Father should move you to joy. If you cannot get joyful about this, then what on earth can you possibly be joyful about?
Your sports team winning a championship? Your fat bank account? 
Landing your dream job? Buying the classic car you've wanted since you were a teenager? Losing twenty pounds? Those are treasures, sure, but they are not The Treasure. Those are gifts, but they are not The Gift. Those are special, but they are not The Special One.
Here is joy, my friend. Joy for you and for me. You have a Father. He is God. Be joyful about that!
Take these promises, these truths that are for you, and believe them today. Don't skip to the next podcast on your playlist and forget about this.
This is not forgettable stuff. Bear it in mind, all week long this week, think on it over and over. And next week, I'll be back here for episode 95, Romans 8 verses 16 & 17, and those are powerful. They can change your life, those two verses, and I really do mean that. Your life can be changed by the two verses we'll look at in the next episode. So, come hungry. Come expectant. Come ready to see the Lord move in your life based on what He has to say to you in Romans 9:16-17.
I'll see ya then!
You've been listening to The Burt (Not Ernie) Show, part of the Spark Network, now playing in the Edifi app.
See you next week!
Bye bye.
1 Corinthians 3:2(NIV) - I gave you milk, not solid food, for you were not yet ready for it. Indeed, you are still not ready.
2 Corinthians 1:20 (NIV) - For no matter how many promises God has made, they are "Yes" in Christ. And so through him the "Amen" is spoken by us to the glory of God.
Spark Media Podcast Awards - Vote Here for The Burt (Not Ernie) Show - Best Female Podcast - THANKS FOR YOUR VOTE!!!
Jan L. Burt is an author, speaker, podcaster, homeschooling veteran, mother to five, and has been happily married to Tony for thirty years. She served in youth ministry alongside her husband for twelve years & has led several Bible studies for women as well as hosting two online prayer retreats.
Jan is the  author of the new book "A 60-Day Prayer Journal for Parents" & "The Power of God's Will – 40 Days of God's Promises Devotional" (available on Amazon) & "The Once-A-Year Homeschool Planner" (a multi-grade, multi-subject planning system) – which can be found at JanLBurt.com. She has also been a regular contributor to The Old Schoolhouse Magazine. Find Jan  Instagram: @JanLBurt or at her website JanLBurt.com or at her YouTube channel, "God's Promises for You with Jan L. Burt".